QBCustomersImportExport

Important Note:
 If you have Windows Vista, you should run Store Manager without admin privileges.

You can start running QuickBooks Integration addon the following ways: 

- you can click the appropriate icon in the section  Addons




- or you can select your products and right-click on them and choose "Export Products to QuickBooks"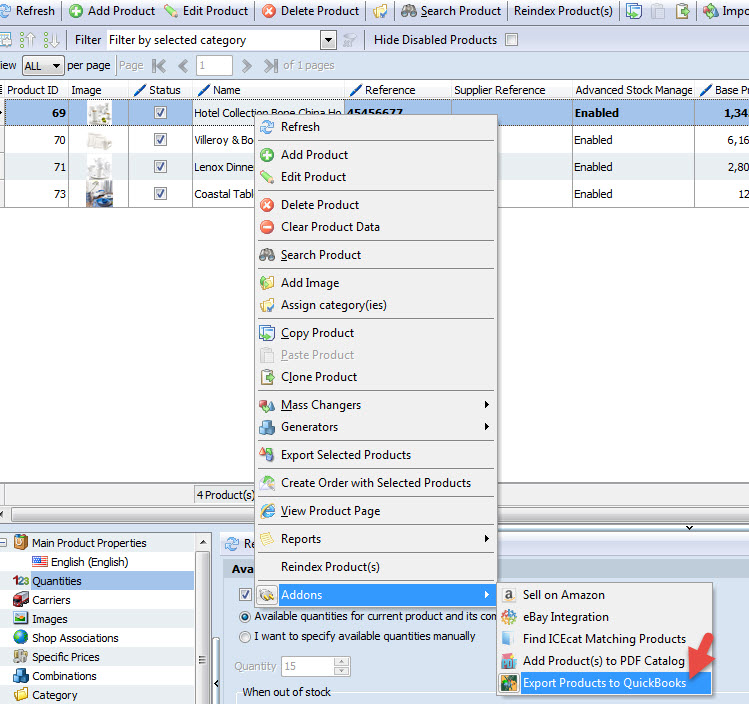 To Export products to QuickBooks follow several steps of the wizard:
1. Select "Export Products to QuickBooks" option and click next to proceed.
2. Export Preview allows you to filter your data by any parameter. Note that all Products listed here will be exported to QuickBooks. You can use native greed filters (click on column headings)

and sorting in order to filter or rearrange products. Filters will affect the result of export.
3. Export options may affect
the results
. Please, read and check your selection carefully.
The first option allows you to connect to your QuickBooks database.
If QuickBooks is running right now, select first option to connect to your data.
If QuickBooks is off, you can connect to its data file (.qbw) anyway, just browse the one you need to proceed.
Also note that you may need to allow access from QuickBooks integration plug-in to QuickBooks. Please, check if Quick Books asks any confirmation (it will pop up automatically if it's needed) and proceed.
Import/Export Method:
Create and Modify - will add new product if it is not available in database yet and modify those products that were found
Create Only - will only create new items and will not modify existing if they are found (only add new products)
Modify Only - will only update existing products and will not add new entries, even if new products were not found in Shopping Cart
Tax:
Set Default tax - when it's enabled, this option allows you to set default tax type specified below for exported products.
Taxable item code - specify tax code that will be assigned to taxable products. If taxable item code list is empty, click "Get tax items" to retrieve existing 

Taxes

 from QuickBooks.

 

Product options:

Export Products as Type - select product type from the list for exported products
Export Product as - specify which database field will be exported as an item name (product name or product model). Also you can specify Max length for item name in the corresponding field
Accounts - specify account that will be assigned to the items. If Accounts list is empty, click "Get Accounts" button to retrieve existing accounts from QuickBooks

 

4. "Map Custom Fields" step allows you to map products custom fields from your Store to appropriate items custom fields from QuickBooks. 




If items in your QuickBooks have custom fields and you would like to fill them during the export, please, check this option at the top of the window. Otherwise just click "Next" button.

    

In order to map products field from your store to items custom field from your QuickBooks select appropriate Source Field Name from the drop-down list. 


    

Check "Use Default Value" option if you would like to set
manually
a default value for items custom field.
5. "Map Products step" allows you to map products from your Store to appropriate items from QuickBooks either automatically or manually.






In order to refresh/get items list from QuickBooks, use "Fill Items List" button.
In order to map the same products automatically, use "Auto Fill" button.
"Clear mapping" button allows you to clear mapping for selected items.
In order to show items description, enable corresponding check-box.

In order to map products manually, simply click on any store product field and select one from the drop-down.

Attention! Export process will start, when you press "Export" Button! Proceed only if all options are set correctly, otherwise press "Back" Button and check all once more!

6. On the last step you can see detailed export log - the list of created/modified items, exported product list and errors if there are any.




7. After that you can check the result in QuickBooks